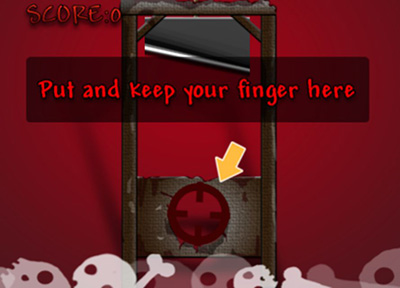 } }
To play this game
Put and keep your finger in the circle.
When the blade drops, release your finger as soon as possible to evade it.
In 2 Fingers or 3 Fingers mode, you need to put 2 or 3 fingers to fill all circles, and the blade will drops one by one, which will be really big challenge for you.
CAUTION: Do NOT play this game on hard floor or high place, you may drop your iPhone/iPod to the ground!
NOTE: You can also PLAY WITH YOUR FRIENDS in 2 and 3 Fingers Mode. Fill one circle by your self and ask your friends to fill the others using their finger, then bet who will be cut.